Great Start to the Longest Running Premium Amateur Golf Tournament in the country.
Glenmarie, 2nd August 2011
- The BMW Golf Cup International, the worldís largest and most prestigious amateur golfing event returned for its fifth year in Malaysia and once again promised to be a thrilling tournament. The series which has constantly attracted a large number of participants since its inception did not break tradition with 316 players competing over three qualifying legs this year.
Breaking tradition, however, was the consecutive qualifying legs held for three straight days from the 26th to 28th of July 2011. The Valley Course at the Glenmarie Golf & Country Club provided the perfect mixture of spectacular views and challenging courses with its rugged and hilly fairways, making for some exciting golf over the three days.
The first break of dawn, accompanied by clear skies indicated that it was going to be an excellent day for golfing. This proved to be the case more so for Mr. Maniam Subramaniam than any other player as he edged out Mr. Shaifuddin Abdul Manan to emerge victorious in Category A with a total score of 37. Mr. Maniam who was part of the Malaysian Team which successfully defended their World Final title in Phuket also took home the Longest Drive Novelty Prize with a distance of 257.40 meters on Hole 9. The second and third prize winners were En. Shaifuddin and Mr. Ng Eng Swee with scores of 36 and 35 respectively.
In Category B, the champion was Mr. Lim Chee Khoon, whilst the second and third prize went to En. Mohd. Khairuddin A Rahaman and Mr. Gwee Bok Chua respectively. Off the fairways, another big and lucky winner was Datuk Dr. Ahmad Fikri Bin Hussein who took home the Grand Lucky Draw Prize; a Corum Admiralís Cup Competition 40 valued at RM20,400.00.
In the Menís Category A of Leg 2, Mr. Albert Koh Yeng San, playing with a handicap of 11 fought off strong challenge from Mr. Chen Qui Fat to emerge as the overall champion whilst Mr. Chia King Hong playing with a handicap of 12 came in third with a score of 38 on the count back.
The Menís Category B witnessed some good action as En. Mohamed Basir Meraslam, playing with a handicap of 16 pulled off a narrow victory over Mr. Ong Chin Kwang when he scored 43 points, just one better than Mr. Ong. Third place winner Mr. Toh Kim Loong, playing with a handicap of 14 was a mere 2 points away from the Category B winner. The main lucky draw prize of the Corum Admiralís Cup Competition 40 timepiece valued at RM20, 400.00, meanwhile, went to the very lucky Mr. Nadin Ibrahim Yap.
Rising to the challenge in Leg 3 was 12 handicapper, Mr. Cheah Thiam Swee who overcame the hilly and rugged fairways of Glenmarie as well as second place winner Mr. Lee Chee Kok to emerge victorious in the Menís Category A with 38 points on the count back. In securing his win, Mr. Cheah relegated 11 handicapper Mr. Lee who also achieved 38 points to second place whilst third placing went to Mr. Wong Yee Peng who finished with a strong 37 also on count back points.
In the Menís Category B, Mr. Kevin Choy Wieng Hing returned an impressive 37 points to emerge as champion. Playing with a handicap of 17, he edged 24 handicapper Mr. Chiang Sooi Yee, who came in second with 41 points. Third place winner was Mr. Yeo Yong Chin with 43 points.
The ladies made their long waited debut at Leg 3, proving that they can hold their own by showcasing some solid golfing. The competition was stiff as the eventual winner Ms. Aggie Lee Kwee Ching overcame second place winner Ms. Thoo Lee Wah on 35 points. 19 handicapper, Ms. Calen Choong Ming Wai, meanwhile, came in third with 34 points.
The Hole In One novelty prizes, a BMW 520d for Hole 17 and RM25, 000.00 worth of BMW products and services for Hole 6 has never been claimed in the history of this series in Malaysia and continued to elude the players over the three legs at the GGCC.
In congratulating the winners, Geoffrey Briscoe, Managing Director, BMW Group Malaysia said,ď The BMW Golf Cup International tournament series has once again showcased the spirit and the capability of our Malaysian golfers. The competition is reputed for its quality, excellence, consistency and sets the benchmark for all golfing tournaments held in the country. This is essentially what the BMW Golf Cup International is all about Ė giving amateur level golfers from around the world a chance to take their golfing skills to a higher levelĒ.
The winners will be invited back for the National Final to be held at the prestigious Kuala Lumpur Golf & Country Club (KLGCC) on the 24th of November 2011. The forth leg of the BMW Golf Cup International 2011 Malaysia will held at the Bukit Jawi Golf Resort on the 10th of September 2011.
He also added, ď Much gratitude needs to be given to Glenmarie Golf & Country Resort for the great course and of course our event partners whose strong support and dedication has made this event possibleĒ.
BMW Golf Cup International 2011 Malaysia is co-sponsored by BMW Credit and CORUM. This year also saw the return of famed global brand and long-time partner Leica as well new partners, including renowned international brands; Hermes, Illy Coffee and Origins, while The Edge and Fairways continued their support as Official Media Partners.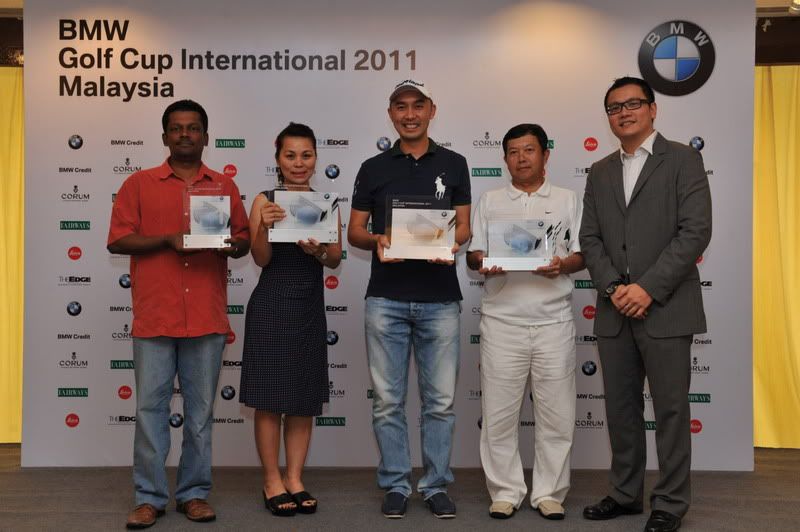 About BMW Golf Cup International
The BMW Golf Cup International series first teed off in Germany in 1987 and has since become one of the worlds most prestigious and successful amateur golf tournaments attracting more than 100,000 amateur golfers from 42 countries every year. Providing the perfect mix of thrilling competition and social interaction, the BMW Golf Cup International Malaysia is in its fifth year running and has proven to be the benchmark in amateur golf tournaments in Malaysia and around the globe.
This year, four established golf clubs play host to the qualifying rounds whilst the National Final will be held at the prestigious Kuala Lumpur Golf & Country Club (KLGCC) on the 24th of November 2011. The top 3 winners from the individual categories will represent Malaysia at the BMW Golf Cup International 2012 World Final at the Sentosa Golf Club in Singapore. There, they will compete with the best amateur golfers from around the globe to earn the right to be called BMW Golf Cup 2011 Internationalís best of the best players.
The BMW Golf Cup International Malaysia is reserved exclusively for BMW owners and is an opportunity for members to test their skills amongst their peers through the spirit of competition and camaraderie whilst enjoying premium hospitality. Regarded as one of the most prestigious amateur golf tournaments in the world, its style and structure bespoke the tradition of excellence that is associated with the BMW brand.
For more information; please visit:
www.bmw.com.my